Tuition costs will vary by semester for each student and are dependent upon the following
in-state vs regional vs out-of state rates
number of credits  the student enrolls in per semester; student decides how many credits based on personal finances and time availability
all students complete a TOTAL of 33-credits for the degree; the time to degree completion is variable by student based on part-time or full-time status

part-time is fewer than 9 credits per semester
full time is 9 or more credits per semester
program with full-time enrollment is best completed in 1.5-2 years to allow for flexibility in class selection, professional development and a broad experiential learning
the "quickest" program completion is summer start, fall, spring, graduate August (14 months) (may be less if transferring in graduate certificate class credits).

Note fees listed exclude  room and board, parking fees
The most current fee schedule is listed on Uconn's Bursars website
The University has a list of fees and associated descriptions of each fee
A late payment fee of $150 is payable by all graduate students whose tuition and fees are not paid in full on the published fee bill due date. If after Day 10 of the semester, your bill remains unpaid you will be assessed a second $150 late fee.
Parking fees: varies depending on commuter parking lot choice http://park.uconn.edu/commuter-permit-types-and-rates/  and does not include parking during clinical semester if at an external site.
Complio Registration for Professional/Clinical Aspect of Program- Year 1 may be required $25
Complio Compliance - Year 2 $150.00 - $200.00 for Vaccine Documentation/ Physical Exam may be required for Clinical Internship
Criminal Background check may be required $75
Almost all classes in the major require a working laptop computer with internet access. 
Tuition Fees 2022-2023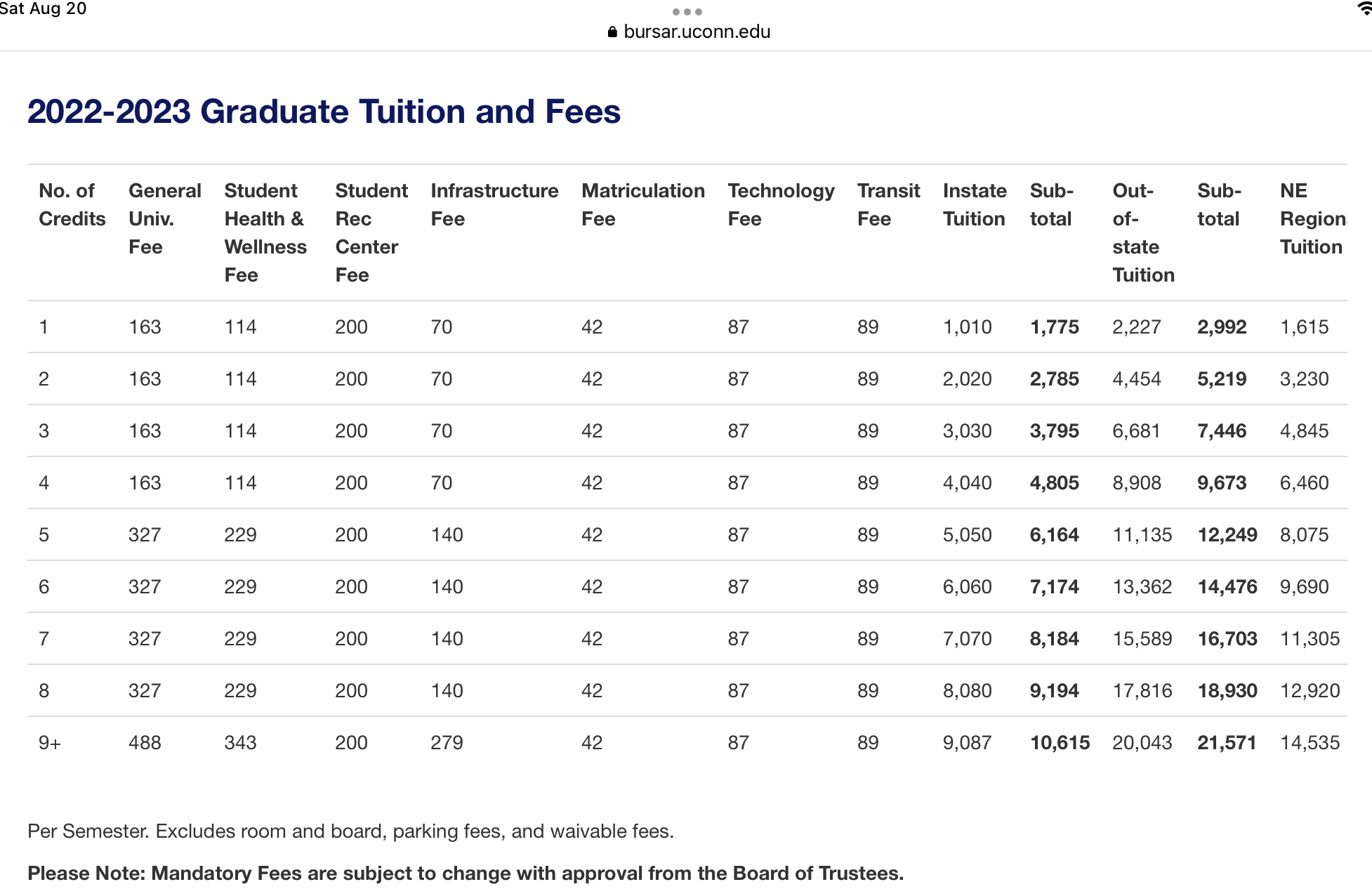 Fee Schedule
Please Note: Mandatory Fees are subject to change with approval from the Board of Trustees.
The General University Fees for SSW, MPA/MPP HTFD, Law Day/Eve, Full time MBA, as well as other regional campuses are not prorated per credits, $59 per term. Graduate Assistants will be charged a flat rate of $188 per term. 
Student Health & Wellness Fee: Not applicable to regional campuses.  All Graduate Assistants are considered full time at six credits, and therefore billed the full time fee of $343.
Student Recreation Center Fee: Not applicable to regional campuses
Regional Transit fee is $24
Matriculation fee waived for Graduate Assistants
A $25.00 per credit charge will be issued for all classes with an "online" instruction modality.
Continuous Registration Fees: Storrs & Law $400.00, Regional Campuses $100.00