Graduate students will have opportunities to actively contribute to the mission of increasing diversity of the profession.
Student, alumni, and faculty members of The Genome Ambassadors Program (GAP) support a public education initiative to advance the genetic and genomic literacy of our community and to increase the diversity of persons who pursue education and careers in the genetic sciences by providing early exposure and access to genomic science and career information. Mentorship and collaboration occur naturally within the GAP wherein undergraduate students, graduate students, doctoral and post-doctoral students, alumni, faculty and career professionals join in a common space with shared common interests and aspirations.
Virtual outreach with Genomics Word of the Week, a spring invited speaker series, on-campus lab days for young students, supporting a local Manchester Cystic Fibrosis Foundation Walk; there is an opportunity for everyone to support outreach, literacy and mentorship efforts.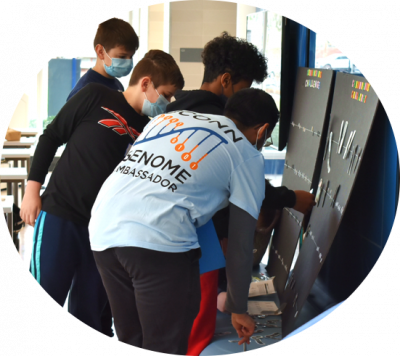 Paul Isaac, DGS '22, assists visitors with the Chromosome Puzzle - what is your karyotype?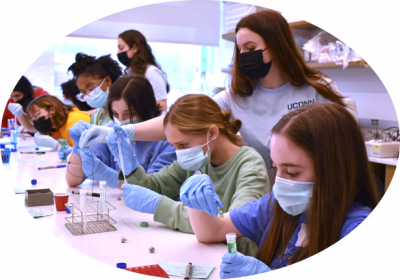 Gillian McNeil HCG '22 (L) & Rachael Massey HCG '21 (R) are Genome Ambassadors mentoring CT 8th graders for a hands-on lab day at the Center for Genome Innovation in the Institute for Systems Genomics. 
We will all profit from a more diverse, inclusive society, understanding, accommodating, even celebrating our differences, while pulling together for the common good.

~ Ruth Bader Ginsburg
The Health Care Genetics Professional Development aspects of the degree are designed to foster autonomous critical thinking with a commensurate tenet of advocacy for others and the profession. The Council for Graduate Schools reports that "a university that is committed to maintaining an environment that fosters inclusiveness and success will have in place programs that go beyond the purely academic aspect of the students' education. It will acknowledge the importance of preparing graduates for success in careers and will provide mechanisms for students to move to that next step."
The Institute for Systems Genomics Professional Skills and Competencies seminar series is a variable credit course delivered, mentored and/or supervised by a practicing professional in a structured setting to provide an opportunity for concentrated learning. Each (section) module is a self-contained unit of learning, teaching, and assessment. Graduate students may enroll in multiple sections of ISG 5730 Professional Skills and Competencies. Topic sections, delivered virtually and/or in-person, include
Career Skills Development
Teaching & Mentorship
Networking & Outreach
Scientific Writing
Leadership & Management
Students compile an online professional portfolio, a positive practice in graduate education and career advancement as an outcome for all sections.
---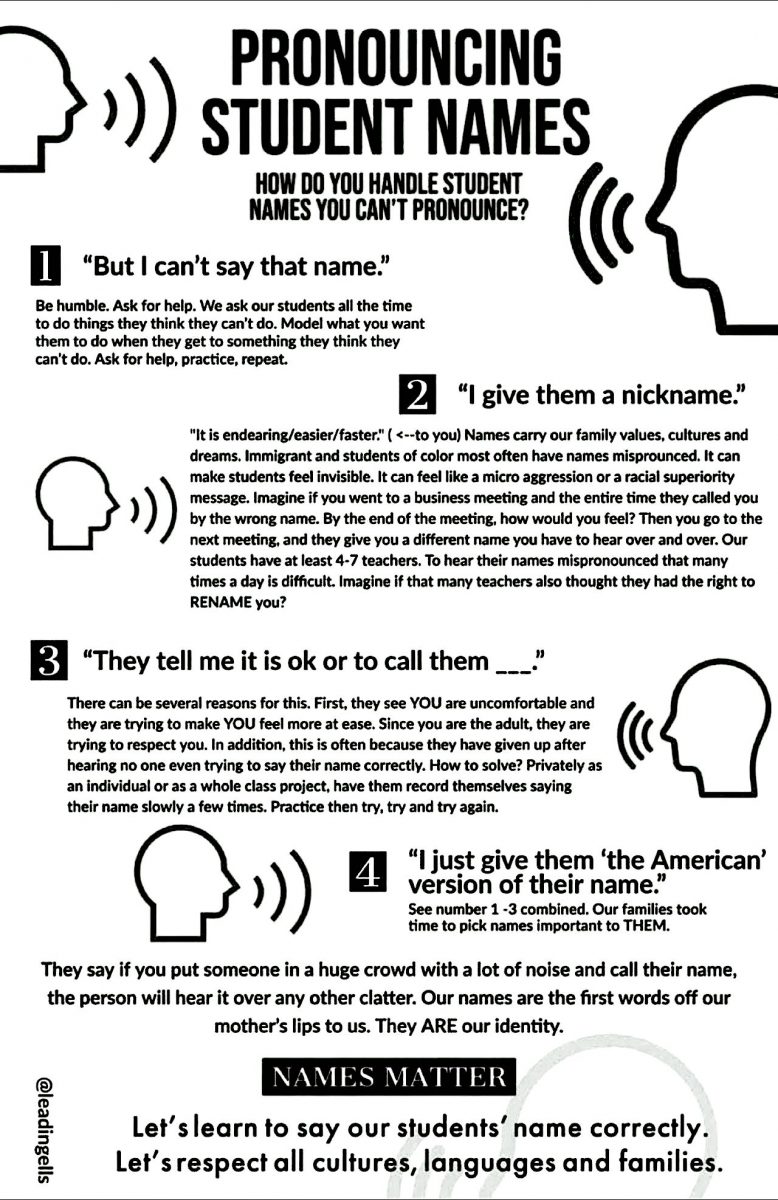 Diversity, Equity and Inclusion in the Graduate Programs
Names are identifiers, extensions of who we are. They are tied to our cultures, heritages, spiritualities and family histories. Our names are part of our identities.  
Our motto in the ISG graduate programs is one of "Your Name is A Song".  The motto comes from a children's book written by Jamilah Thompkins-Bigelow and illustrated by Luisa Uribe. Please correct our program representatives when we pronounce your name incorrectly; we suggest you include a phonetic spelling in your initial communications.  
A conscious consideration of diversity, equity and inclusion has been integrated to the best of our ability within the practice, policies, and lessons of our ISG courses with room for student feedback about improvement. 
Student Professional Development 
Health care professionals, STEM graduate students and faculty, and health care consumers should be cognizant of the implications and impact of diversity within genetics and genomics; from DNA variation among persons, health risk differentials across populations, data included within reference materials, as well as the diversity, equity and inclusion of persons within the various aspects of the genetics discipline. To that end, the Health Care Genetics Program  provides students with announcements of seminars and opportunities to participate as well as includes requisite class components to improve our knowledge base and understanding toward increased genomic literacy and diversity within the profession. 
Career Champion
In many ISG courses, you will have the opportunity to identify and enhance career readiness competencies that employers and graduate programs identify as critical to Becoming Career Ready  and to your success both as a student and post-graduation.  Career readiness competencies will be found embedded in assignments and class conversations and  will contribute to your ability to articulate your competencies when applying for leadership roles, internships, jobs, graduate school, fellowships, and more. Students are able to request assistance in identifying and articulating competencies  by scheduling an appointment  with a Career Coach at the Center for Career Development. For more information about what employers and graduate programs are looking for in college graduates click here for the National Association of Colleges and Employers (NACE). 
---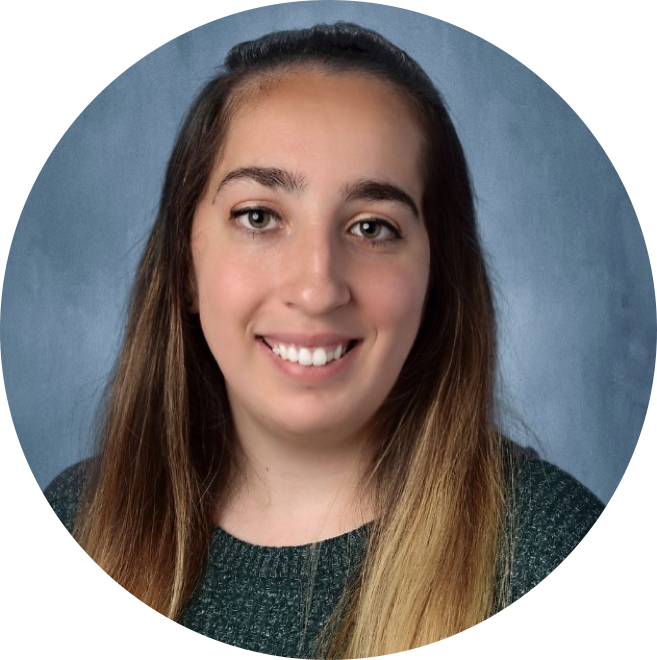 One of my greatest takeaways from the Health Care Genetics program was the value of embracing the perspectives, strengths, experiences, and diversity of those around us, including our peers, co-workers, and teachers. The diversity of the HCG program was not only acknowledged, but celebrated. An integral part of our education came from learning from each other's unique perspectives. In this way, my learning in this program extends beyond just the theories and science of clinical genetics. I feel uniquely prepared to provide holistic, culturally competent patient care in my future career in pediatric genetics. This is largely due, in part, to the DEI focus in the HCG program that encouraged me to learn from the experiences of those in the program. These perspectives ranged from various cultural beliefs, sexualities, ethnicities, personal and professional experiences, and more. Additionally, I've become much better equipped to reflect on, utilize, share, and embrace my diversity and experiences with disability, education, and values to improve awareness, advocacy, and my cultural competency. The Health Care Genetics program provided me with the diversity, equity, and inclusion lens by which to approach the increasingly complex field of clinical genetics so that I may one day successfully and positively impact the lives of a culturally and genetically diverse patient population.